YG and Wack 100 Involved in Online Feud as the Rapper Is Accused of Faking Gang Ties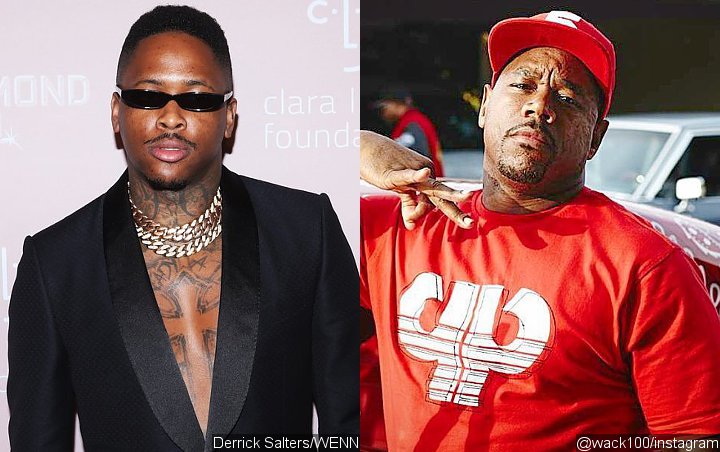 The back and forth between the 'BIG BANK' spitter and the outspoken manager starts after the latter takes to his Instagram account to blast rappers who faked their gang affiliations to set an image.
AceShowbiz –
YG and Wack 100 were beefing online after the music manager subtly dissed the rapper in his recent Instagram post. In the post, Wack blasted rappers who faked their gang affiliations to set an image.
"ONE THING I CAN RESPECT IS THIS – BLUE FACE CAME INTO THIS RAP GAME CRIP'N," he wrote, praising his talent Blueface. "THE GAME CAME INTO IT PIRU'N-MOZZY CAME INTO IT BLOOD'N-SOME OF YOU N***S WAS WEARING SKINNY JEANS AND DANCING WITHOUT A GANG SLOGAN COMING OUT YA MOUTH UNTIL YOU GOT ENOUGH MONEY TO BUY A SET."
Adding in the caption, Wack said, "Wish a n***a would say a word I'll embarrassed the f**k outta n***a playing with me !!!! Enough is enough if it's on let it be on …."
The post seemingly triggered YG, who later responded in the comment section, "You shoulda @'d me big gangsta og piru god father." In response to YG's clapback, Wack wrote, "I @ you on your own post little n***a ! You'd a little n***a gone always be a little n***a Mr Toot it and Boot it wasn't a gang sign in the video all SKINNY JEANS ! The words described you that's why ya responded you knew it was you !!!! SHOE FIT WEAR IT N***A."
Later, the controversial manager posted a photo of YG, a Blood, reportedly doing a different set's gang sign. Captioning the post, which was later removed by Instagram because "it goes against our Community Guidelines on violence or dangerous organizations," Wack wrote, "All I know is that ain't a Piru set ya throwing up and I'm not gone put ya off on the Figueora or DENA boys…#UrALilN***a I always been #818."
Not stepping back, YG left multiple comments underneath the post. "I been from da gang n***a," he wrote, adding, "That's highskool click i was throwing up. We use to rob n****z & run in houses & more s**t that I ain't got mention."
"Shut up n***a. I'm scared You from the 818. N****z get money & move that way," another comment from YG read. "Get yo facts str8 old man. You from valley you don't know what was going on this way."
The back and forth between the two continued with YG accusing Wack for begging him for a collab. "Don't beg me to do no more verses either," he slammed Wack. In his response, Wack alluded that it was actually the other way around. "beg you to do verses N***A EVERY SONG YOU ASKED @bluefacebleedem TO DO IS STILL ON MY EMAIL CLOWN. YOU FORGOT I GOT THE TEXT MESSAGES. YOU HAS A BLUE FACE VERSE BEFORE BKUE FACE [SIC] HAD A YG VERSE #LILN***A," he said.
YG also accused Wack of having "Instagram fingers." The outspoken manager later hit back, "fingers I see you know how to work ya finger mr #GundryBlock keep playing these flicks and footage gone go viral. Like I said your a little n***a always will be. Ain't walked a yard or laid nothing. DON'T BELIEVE YOUR RAPS YOU AINT THAT #LILN***A."