Tristan Thompson's Ex Jordan Craig Shared First Pic of Their Son Prince on Mother's Day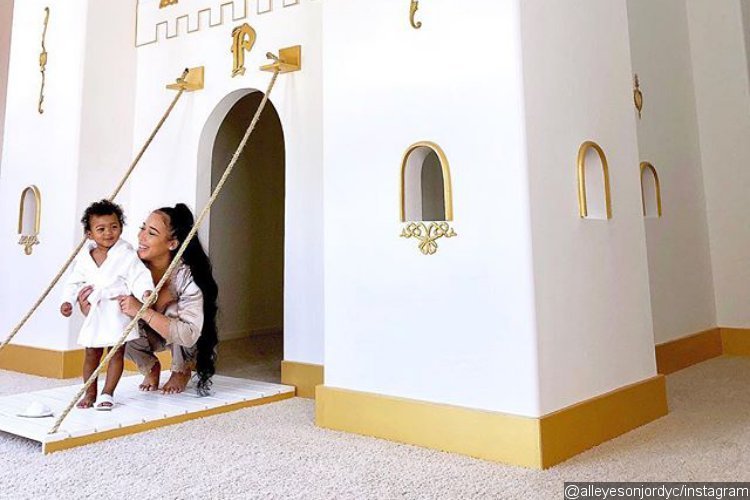 The picture features the mother-and-son duo posing in front of a huge white castle playhouse and drawbridge.
AceShowbiz –
Following Khloe Kardashian, Jordan Craig has shared to the world the first picture of her son with Tristan Thompson, Prince Oliver. In honor of Mother's Day, the lifestyle blogger took to Instagram to post a picture of her and the young boy celebrating the occasion.
The picture found the mother-and-son duo posing in front of a huge white castle playhouse and drawbridge. The 15-month-old boy, dressed in a white robe, was seen smiling as he posed with her mom. Jordan, meanwhile, smiled widely while sweetly looking at her little boy. In the caption of the picture, she revealed that the massive playhouse was designed by her.
"I've been meticulously designing your Castle Playroom since I found out you were going to be a baby boy, while you were still living in mommy's tummy!" the dark-haired beauty wrote. "I am ecstatic that you love it and that it is up to par, meeting your standards being the little prince you are! There's absolutely no feeling in the world greater than bringing a smile to your face! Forever in love with being your Mummy."
Jordan gave birth to Prince on December 12, 2016. Both Tristan and Jordan had always been fairly private regarding their son, keeping his image under wraps. Jordan previously shared on Instagram a picture of her holding her baby boy high in the air while enjoying time in the pool together. However, his face couldn't been seen as it was taken from afar.
Meanwhile, Tristan gave an update on his little boy during his recent appearance on "Road trippin" podcast. "Prince is getting big," he remarked after gushing over baby True. He said of the baby girl, "She's doing good. Eating, sleeping and uh, s***tin'. That's all they do." He added that the little bundle of joy has a "full head of hair," green eyes and was born 21 inches long.