Tom Cruise Is Back on 'M:I 6' Set for the First Time Since Injury, Prepares Helicopter Stunts
has been spotted on set of "" for the first time since breaking his ankle, which put production on hold for over seven weeks. The Ethan Hunt depicter was photographed at Thorndon Country Park in Brentwood, Essex, earlier Tuesday, October 3.
Cruise seemed to have fully recovered from his injury as he could be seen preparing for some helicopter stunts in some photos obtained by . Surrounded by members of the crew, the 55-year-old actor was seen flying a helicopter as well as driving a large truck around the set.
Dressed in an all-black ensemble consisting of a jacket, a polo-neck jumper and a pair of jeans, Cruise looked happy and relaxed. He was seen at one point smiling while joking with the crew members in between takes.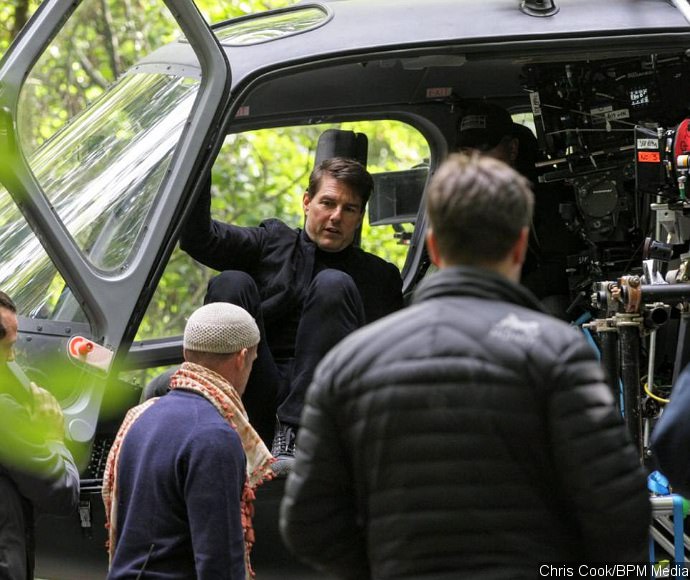 Production on the film was by Paramount in mid-August after Cruise when doing a dangerous stunt involving jumping from one building to another. According to the studio, Cruise broke his ankle, but an individual close to the production claimed that the actor might have also hurt his hips.
A rep said at the time, "During production on the latest 'Mission: Impossible' film, Tom Cruise broke his ankle while performing a stunt. Production will go on hiatus while Tom makes a full recovery, and the film remains on schedule to open July 27, 2018. Tom wants to thank you all for your concern and support and can't wait to share the film with everyone next summer."
"M:I 6" is directed by Christopher McQuarrie, who helmed and penned the fifth film, "". The filmmaker also provides the screenplay and serves as a producer for the sixth installment of the action spy film series.
Aside from Cruise, the film sees , , , , and Sean Harris all reprising their roles from the previous films, with , , , Sian Brooke and Frederick Schmidt joining the cast.