Titans New Set Photos and Video Tease New Look at Robin, Hawk and Dove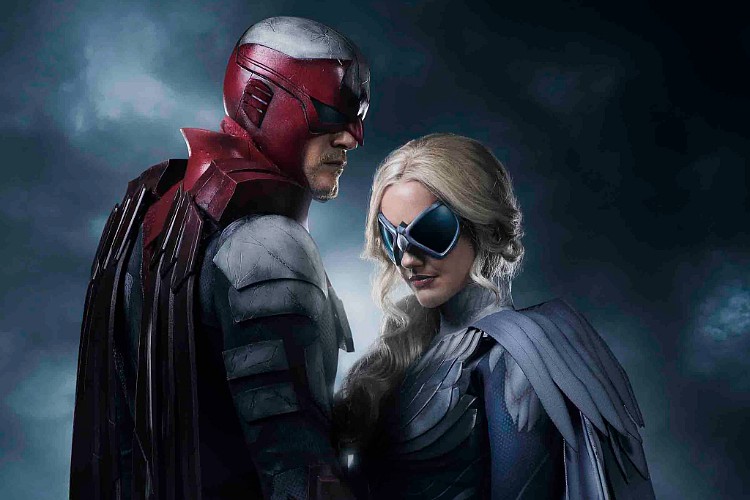 In some photos, Brenton Thwaites, who plays Robin on the series, can be seen in civilian costume as Robin's alter-ego Dick Grayson.
AceShowbiz –
More set photos of upcoming DC series "Titans" have found their way out online. The new photos offer a great behind-the-scenes look at some key characters donning their superhero costumes, and this one is much to fans' excitement.

The video comes from star Minka Kelly. The Dove depicter takes to her Instagram Stories to share a video of herself and co-star Alan Ritchson (Hawk) having some fun using the site's filter while donning their respective character's costumes.

Minka can be seen wearing the iconic Dove costume. The actress, who puts Dove's signature black glasses on her platinum blonde locks, later pans the camera at Alan who looks taken aback at the cute rabbit filter. "She's so dumb," he says of his co-star, who laughs heartily.



Fans also get to see Brenton Thwaites in full Robin costume. While Minka and Alan are using the break time to have some fun, the "Maleficent" actor is seen relaxing in a chair. Fans are so pleased with how Brenton looks as the Batman sidekick, with one fan saying, "Honestly he looks just like in the comics this is great. Now im more frustrated with what they did to Starfire though." Another fan adds, "Robin looks lit…"



In some other photos, Brenton can be seen in civilian costume as Robin's alter-ego Dick Grayson. He wears a khaki top and jeans while carrying a big leather bag. He is also joined by Ryan Potter's Beast Boy and Anna Diop's Starfire, the latter of which recently received a huge backlash over the alleged lackluster costume.

Every BTS photo of @brentonthwaites as casual #DickGrayson#TITANSpic.twitter.com/XAeAsBKjT2


— TitansTogether (@Titanstogether_) April 29, 2018

In addition, a new photo also offers fans a look at another character that is believed to be Brother Blood.

For anyone who sees this, who do you think this is? #TITANSpic.twitter.com/4NcrDUcozD


— TitansTogether (@Titanstogether_) April 27, 2018

Previously, fans were enraged after some photos featured what Starfire costume would look like on the upcoming series. The photo saw Anna rocking a curly red wig and a purple dress, a pair of suede knee-length boots and a fury coat. A fan slammed "Titans" by comparing it to ABC's "Marvel's Inhumans", which was also criticized for its portrayals of the Inhumans. Another fan came with a sarcastic remark, saying, "Oh man, #Titans nailed Starfire. Looks identical."

Anna later took to Instagram to defend the show, suggesting that the aforementioned photos didn't do the actual portrayal of the alien princess justice. "To the 'Titans' fans: Yesterday a photo of me on set leaked online. And it was unfortunate because fans have been waiting MONTHS for a photo of 'Starfire' and a sloppy photo of me on a curb in 15 degree weather is what they got instead," she wrote in her Instagram account. "For the sake of our incredible fans – I hated that this is the first picture people are seeing."