Tekashi69 Gets Handsy With His Girlfriend in First Pic From Jail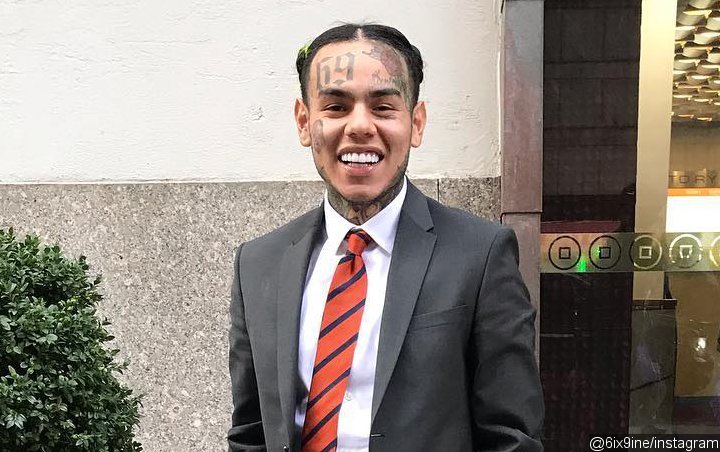 The incarcerated rapper's girlfriend Jade shares a picture of the 'Gummo' hitmaker grabbing her butt when she visits him in jail.
AceShowbiz –
Tekashi69 a.k.a. 6ix9ine's girlfriend Jade has shared the first picture of the rapper behind bars to assure everyone that he's doing fine. Jade took to her Instagram page on Monday, January 7 to post the image after she visited him in jail.
The 22-year-old Brooklyn rapper appears to be in good spirits, flashing a smile to the camera as Jade plants a kiss on his cheek and puts her hands around his neck. Being cheeky, he gets a handful of Jade's pert derriere. She wrote in the caption, "He's good luv , enjoy," adding the hashtag #FreeDanny.
Tekashi was arrested in November for charges that included conspiracy to murder and armed robbery. Initially held at the Metropolitan Detention Center in Brooklyn, he was moved to another facility due to security reasons.
His initial request for bail was denied by the judge, reasoning that Tekashi's freedom poses a threat to society. He planned to appeal the ruling, but postponed his emergency bail hearing over fear for the safety of his family after severing ties with his managers, promoters and agencies.
His lawyer reportedly plans to put together another $1.5 million bail package in a bid to get the rapper out of jail before his trial. His trial is scheduled to begin in September. If found guilty, Tekashi could be handed a life sentence, with a minimum of 32 years in prison.
His attorney Lance Lazzaro has stated that his client refused to take a plea deal, meaning he won't snitch. "A plea deal is simply off the table, even if the feds offer one," he said to TMZ in December. He insisted that the "Gummo" hitmaker "was never part of a conspiracy, plain and simple. Nor did he ever participate in any incidents that the government has alleged."