Stephanie Pratt Hits Back at Brother Spencer for Calling Her 'Evil': Your Wife Is the Devil
In an episode of his podcast 'Make Speidi Famous Again', Spencer also says he is 'beaming white light at possessed entities that are attacking us in all realms and dimensions.'
AceShowbiz –
The possibility of Stephanie Pratt reconciling with her brother Spencer Pratt and sister-in-law Heidi Montag just keeps decreasing. The 33-year-old TV personality wasted no time to clap back at her brother after the latter described her as an "evil" person during a recent interview.
In the Monday, April 15 episode of his "Make Speidi Famous Again" podcast, Spencer admitted it was hard to focus on the positive side when people around him kept sending him texts about the drama. "It's like, 'I know, I know. I have been living with this evil around me for a long time. I already know.' Like this is news to everyone else," he said, subtly shading Stephanie.
"I'm not getting in an argument with people that are just making up lies. If it's completely not truthful, it's insanity," he continued, before claiming that he is "beaming white light at possessed entities that are attacking us in all realms and dimensions."
His comment soon made headlines, and it didn't go unnoticed by Stephanie, who later took a screenshot of it and shared it on Instagram Stories. The former "Celebrity Big Brother" contestant wrote in the caption, " 'Living with evil around you.' Well you are married to the devil…" Stephanie was clearly referring to Heidi, to whom Spencer has been married for ten years.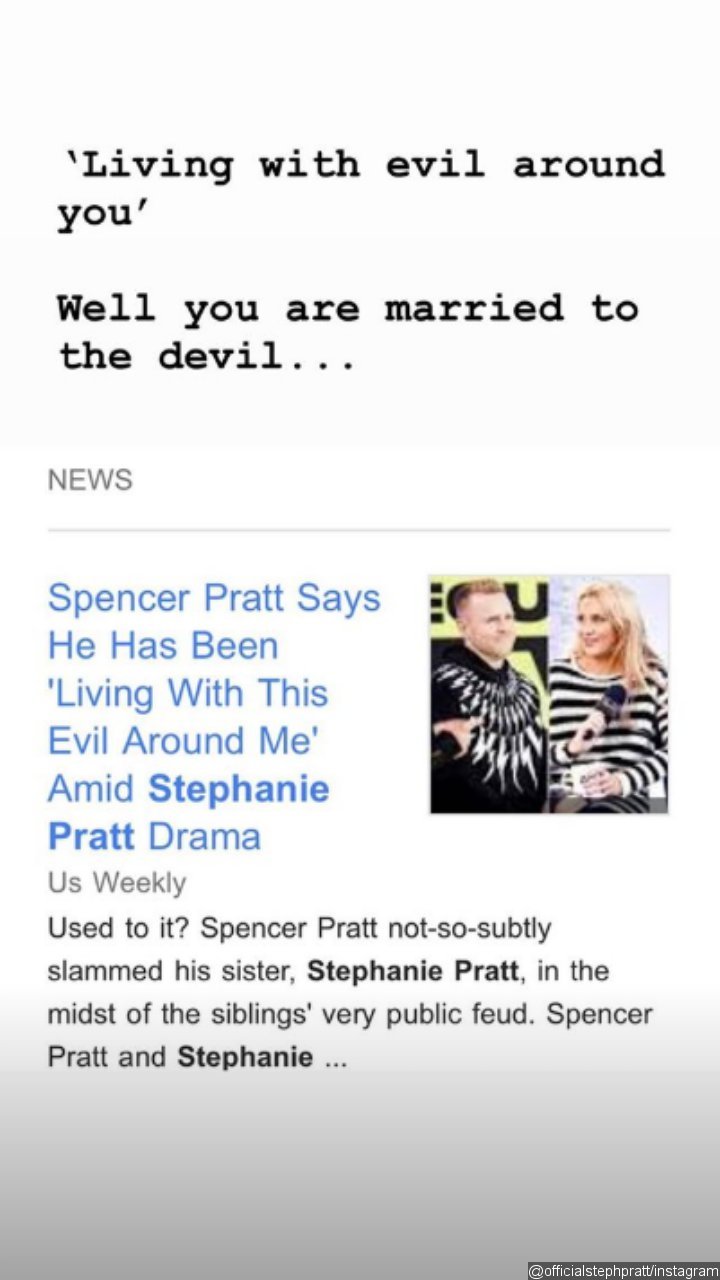 Stephanie Pratt called sister-in-law Heidi Montag "the devil."
The Pratt family feud first came to light after Stephanie revealed on her own podcast "Pratt Cast" that she was done dealing with her "The Hills: New Beginnings" co-stars. "I'm not going to pretend that Spencer and Heidi are good people like I was doing for most of the series for my parents," she said. "For the s**t they have done to me recently, I'm done. This is why I moved to London. I'm done. They are the most toxic people I've ever met."
Both Spencer and Heidi have previously responded to the criticism, with the former warning his sister that something would be "coming your way" if she continued badmouthing his wife.