Sophie Turner Goes Candid About Husband Joe Jonas' Racy Habit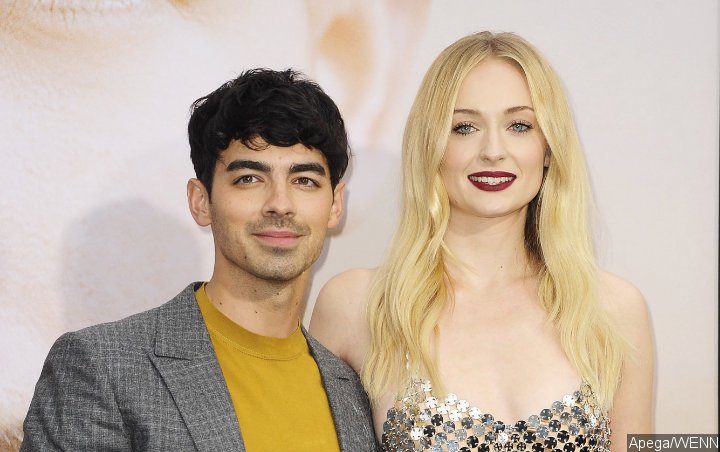 Doing an interview while playing with puppies, the 'Game of Thrones' alum says a pooch, which pokes its head behind her blazer and moves toward her breast, reminds her of her husband.
AceShowbiz –
Sophie Turner may have shared too much information about her intimate life with Joe Jonas. The British actress candidly revealed her husband's racy habit during an interview with BuzzFeed to talk about her upcoming movie "Dark Phoenix" and her recently-concluded TV series "Game of Thrones".
During the interview, the former Sansa Stark depicter was given puppies to play with. When a pooch tried to nudge his way into her blazer and move towards her breast, she made an NSFW comment about Joe. "OK! Alright. You know what? You remind me of my husband," she said of the playful dog.
Christian Zamora, a senior celeb writer for BuzzFeed, tweeted the video on Friday, June 7 and alerted Joe to Sophie's remark about the Jonas Brothers member. The "Cake by the Ocean" crooner responded with a winking, smiling face emoji.
In another interview, Joe admitted that he caught his parents off guard with his impromptu wedding to Sophie in Las Vegas. The 29-year-old singer and the 23-year-old actress tied the knot after the Billboard Music Awards in May without prior notice to his family.
Stopping by SiriusXM's Hits1 with his brothers Nick Jonas and Kevin Jonas, he admitted that his parents "did find out online" about their wedding. "Well, in my mind, that was the legal portion of the marriage," he explained. "So I was thinking, like, 'Look, this is not the most important day.' There's an important day, I mean, I'll keep private, but ahead of us. So we were, like, this is just whoever's in town."
Joe went on sharing how his father and mother found out about the wedding, "They have an amazing restaurant in North Carolina and I think, like, a couple of their staff walked up and were, like, 'Congratulations! I saw.' And then they had to find out."
He admitted that he tried to make amends for leaving his parents out of the loop, saying, "So I was doing a lot of, like, apologizing and 'Hey, you guys want to come out to L.A.? I got you four spas at the Four Seasons.' "
The couple will throw a bigger wedding celebration in France later this month.