Slash's Estranged Wife Accused Him of Hiding Money as Divorce Battle Continues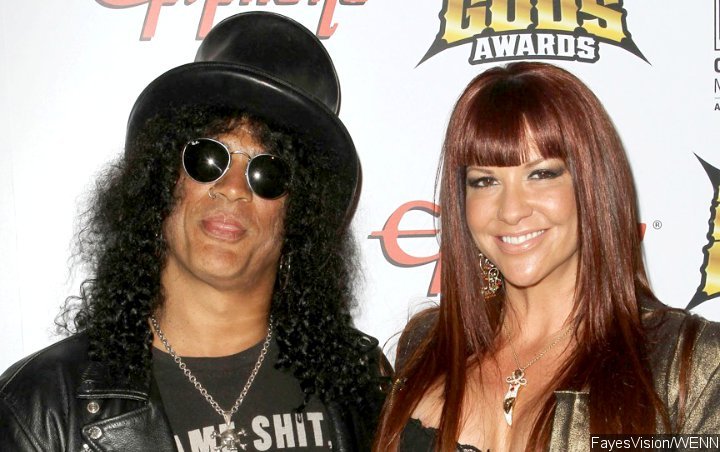 Perla Ferrar claims the rocker refuses to give her money because he 'has been manipulating the income that he will earn in the future that could affect his future support obligations.'
AceShowbiz –
Slash's estranged wife has alleged the rocker is hiding money in their ongoing messy divorce battle.
The Guns N' Roses guitarist filed for divorce from Perla Ferrar in 2014, and the couple has been bitterly fighting it out in court ever since.
According to new legal documents obtained by The Blast, Slash is keen to sign off on a final deal, and accused the 43-year-old of dragging her feet and refusing to co-operate.
Lawyers for Slash, real name Saul Hudson, also claimed that Ferrar has not responded to legal requests for months at a time, and even had to cover the late payments to one of their children's cars, a Mercedes 450, because she allegedly failed to make the payments.
The guitarist said he was "forced to pay these overdue lease payments to prevent embarrassment of the car being repossessed".
Slash and Ferrar, who wed in 2001, share two children – London Emilio, 15, and Cash Anthony, 14.
However, she accused her estranged husband of earning more than $45 million (£35 million) last year (17), and claimed that the only reason Slash's legal team is refusing to hand over financial documents is because the rocker "has been manipulating the income that he will earn in the future that could affect his future support obligations".
Back in June, Slash, who regrouped with his old bandmates, including Axl Rose, and began touring the world with them in 2016, offered Ferrar $6.6 million (£5.1 million) in an effort to end the bitter legal battle.
She refused the offer. The case is ongoing.