Shooting Victim Denies Nipsey Hussle Ties After Parole Violation Arrest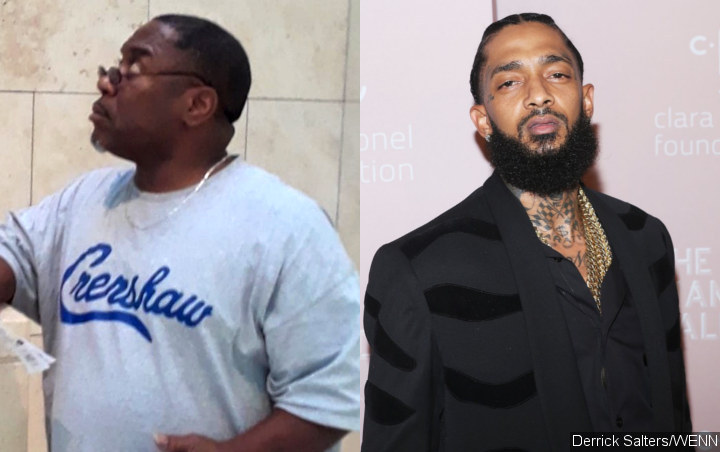 In an interview on VladTV, Kerry Lathan insists he only spoke to the 'Victory Lap' rapper as suggested by the manager of Marathon clothing store when he could not find the shirt he was hoping to buy.
AceShowbiz –
One of the men left injured by the gunman who shot and killed Nipsey Hussle insists his parole violation arrest for chatting to the rap star is bogus.
Kerry Lathan, 56, was hospitalised after the "Victory Lap" star was murdered outside his Marathon clothing store in Los Angeles on March 31, and then detained by police for consorting with a rap star who had extensive links with the Rollin' 60s street gang.
As part of his parole following his release from jail on murder charges in 2018, Lathan was ordered to stay away from gang members or those with links to gangs.
But in a new interview on YouTube channel VladTV, Lathan insists he had no links to Nipsey and simply bumped into him outside his Marathon clothing store, where he was hoping to buy a shirt.
Lathan claims the store manager suggested he speak to Nipsey outside when he couldn't find the item he was looking for.
"He (manager) said, 'Well, there go Nipsey in the lot. Go talk to him'," Lathan explains. "And I talked to him. He said, 'That'll be about a week, bro'. I said, 'OK'. And when I said it, it was all bad."
He's still trying to wrap around how a car park chat with Nipsey landed him behind bars: "When I get (to Men's Central Jail), they say, 'You're here for a parole violation'. I said, 'For what?'. 'Well, coming into contact with a known gang member'. I said, 'Man, I didn't come into contact with nobody. I was visiting some people, going to pay respects to a person's father who just passed away."
"My buddy Ronnie, his father just died that Sunday. So, that's all I was doing. And I was just gonna change my shirt so I could look presentable in front of the people. That's it. And when I stopped over there with Nip, I got shot."
Recalling the moment suspected gunman Eric Holder opened fire, Lathan adds, "He turned around the car and shot me, then shot Nipsey, and then shot my nephew. I didn't know what was going on… I fell on my stomach. All I could see was people's feet. I couldn't see nothing else… It all happened in less than three minutes."
"I got hit close to the spine. And they said it chipped a part of my pelvis. So, it's very difficult for me to walk…," he continues. "I'm in a wheelchair as we speak."
Holder, 29, is facing life in prison after prosecutors charged him with one count of murder and two counts of attempted murder. He has pleaded not guilty.