Shay Mitchell's Blonde Hair Debut Interrupted by Wardrobe Malfunction – See Her Epic Reaction!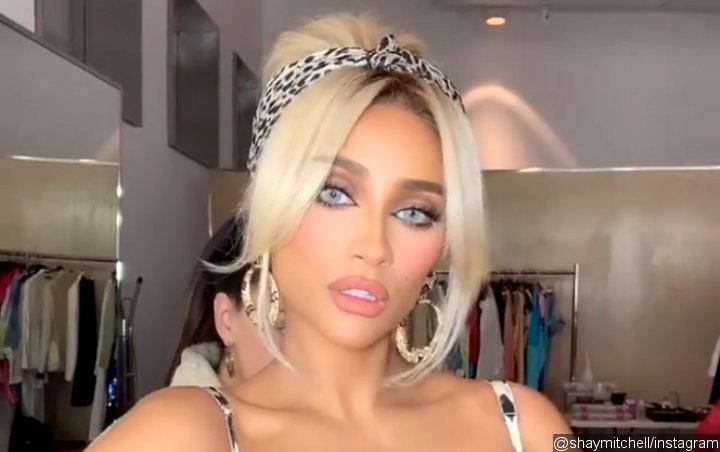 The 'Pretty Little Liars' alum is seen in a video showcasing her new blonde locks when the left strap of her tight top suddenly breaks off and comes flying over her shoulder.
AceShowbiz –
Shay Mitchell's plan to showcase her new blonde hair has gone south. The former "Pretty Little Liars" star took to Instagram on Monday, March 11 to debut her new stunning look, but it was interrupted by a wardrobe malfunction.
In a Boomerang video which Shay shared on the photo-sharing platform, she was seen sporting an icy blonde locks that were piled up in a retro bun with long tendrils down the sides of her face. Teaming it with crystal blue eye contacts, the 31-year-old actress oozed sexiness in a black-and-white leopard print top complete with matching headband and a dark green jacket.
She was busy throwing seductive glances to the camera while all of sudden, the left strap of her tight top broke off and came flying over her shoulder. The "You" actress was understandably shocked by this and quickly grabbed her breast to avoid showing more than intended. The clip ended with her breaking into laugh. "My alter ego Svetlana had a wardrobe malfunction but she wasn't too concerned about it…," Shay wrote in the caption.
Fans couldn't help but gush over how she handled the mishap cutely. One follower could even relate to her as saying, "This is me when I try to act cool in front of my crush eheheheh." Another wrote, "When boobs have life their own and want to come out and say hi." Some others, meanwhile, were raving over her new appearance, with many posting similar comments such as, "So beautiful," "Smoking hot" and "She looks so pretty." Some even compared her to the likes of Jennifer Lopez and Tyra Banks.
Shay is currently starring as Peach Salinger on psychological thriller series "You", along with Penn Badgley, Elizabeth Lail and Jenna Ortega. The second season of the series is expected to premiere sometime this year on Netflix. Besides "You", Shay has also been cast to play the lead role in "The Heiresses" pilot.