Selena Gomez Announces She's 'Getting Married' to Bill Murray After Sweet Interaction at Cannes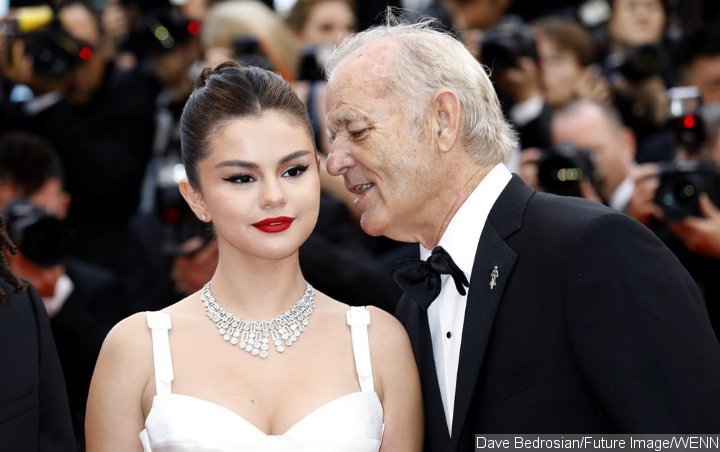 The 'Come and Get It' singer pokes fun at her viral Cannes Film Festival photos which captured her playful exchange with her 'The Dead Don't Die' co-star.
AceShowbiz –
Selena Gomez stole attention at the Cannes Film Festival on Tuesday, May 14, not only because of her dazzling look, but also because of her sweet interaction with Bill Murray. Attending the premiere of their new movie "The Dead Don't Die", the 26-year-old singer was seen getting playful with the veteran comedian on the red carpet. The "Ghostbusters" star was also pictured whispering something in Selena's ear that made her laugh.
Photos of their exchange have since gone viral and Selena didn't miss a beat at poking fun at all the Internet sensation that she and Bill have caused. Taking to her Instagram account, she shared her photos from the opening night of the 72nd annual film festival. One of them shows her and the 68-year-old actor sitting next to each other during the Gala Dinner.
Selena wrote in the caption, "My first time in Cannes! I'm so honored to have been a part of this movie with Jim and the whole cast." She then added a marriage joke as saying, "By the way Bill Murray and I are getting married."
Selena was stunning at the premiere of the zombie movie, wearing a white satin Louis Vuitton two-piece, consisting of sleeveless bralette and matching maxi skirt with a thigh-high slit. She later changed into a strapless white Louis Vuitton mini dress for the Gala Dinner.
Speaking to Vanity Fair after their red carpet moment, Bill said he couldn't remember what he whispered in the "Wolves" singer's ear. "I don't remember what I said. I was trying to keep her at ease," he said with a laugh.
He also praised the former Disney Channel star, "I really like her." He continued, "I mean, you still can't tell me who the hell Selena Gomez is – but Gomez I really like. She's unusually bright. She's kind and she's natural."
Being next to the pop star made Bill feel like her bodyguard. "I feel like I'm her bodyguard," he jokingly said, "I said, 'Look, I'll be your boyfriend if that's what you want. … I'm a fixer-up, I'll tell you that, Gomez.' "
"I'm always pleased to find some kind of pop icon who I really like," Bill added. He went on comparing Selena to Miley Cyrus, whom he previously worked with on Sofia Coppola's Christmas special "A Very Murray Christmas". "Like Miley Cyrus," he gushed. "I dig that chick."