Princess Eugenie's fiancé, Jack Brooksbank, admits he's 'terrified' for upcoming royal wedding
Princess Eugenie is gearing up for her royal wedding to Jack Brooksbank, but while the royal revealed that she was "not stressed" about her big day, her fiancé admitted he feels otherwise.
On Thursday, Brooksbank spoke to the Daily Mail about his upcoming wedding ceremony and shared that he has been "feeling anxious" about his big day.
"I'll need to take a few minutes for myself before the speeches because I'm terrified. It's very exciting but I'm a little bit nervous," he admitted to the outlet.
In contrast to her fiancé, Eugenie said that she was nothing but excited for her wedding day in a recent interview with British Vogue.
"I'm not stressed at all," Eugenie said in the magazine's September issue. "It's very nerve-wracking because you want it to be perfect but then you realize that you're going to be with the person you love forever and nothing else really matters."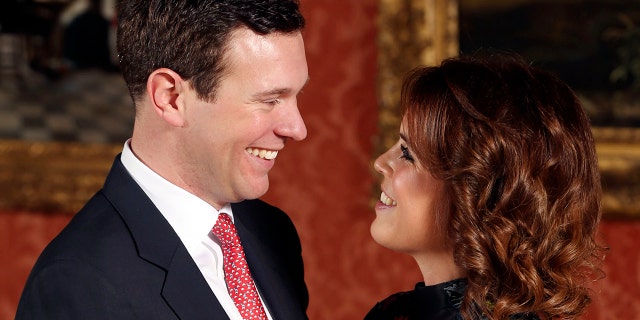 And while the soon-to-be bride didn't give away any details of her wedding ceremony, Brooksbank did reveal that he helped out with some of the wedding planning process.
"I've not been kept out of all the planning. I get to decide some things. I'm in charge of drinks and we'll be serving Casamigos," said the 32-year-old liquor distributor, who currently works as the UK ambassador for George Clooney and Rande Gerber's top-shelf tequila brand.
But despite working closely with Clooney, Eugiene's fiancé could not confirm if the actor and his wife, Amal, would be attending their ceremony.
"I can't say if George Clooney is coming," Brooksbank told the Daily Mail.
With their wedding officially a week away, the couple recently celebrated their upcoming union by releasing their royal monogram.
The ornate china set, which includes a miniature teacup and saucer, pillbox, tankard and coaster, features an elegant intertwining "E" and "J" monogram
In addition to the couple's intertwined monogram, the princess has her own cup which features a solo "E" topped with a golden crown or an "HRH," which stands for "Her Royal Highness." Brooksbank has a solo monogram of his own, too, but his "J" is left bare, without a crown.
In other words, the monograms, released last week by the Royal Collection Trust, hint that Eugenie's fiancé may not receive a royal title while she will continue to carry hers, according to People.
Eugenie and Brooksbank's royal wedding will take place in St. George's Chapel at Windsor Castle on October 12, where Harry wed Markle back in May.