NSFW! Amber Rose Bares Her Unshaven Crotch in Completely Bottomless Picture
has just sent her social media followers into frenzy by sharing a completely bottomless picture of her. The buxom model bares her unshaven crotch in the racy photo she has shared on her Instagram and Twitter accounts, along with the announcement of the dates for this year's SlutWalk.
Without trousers or underwear on, Amber can be seen wearing only a black bikini top while lying on the stairs with her fur coat draped around her arms. Showing off her signature blonde buzz cut, the 33-year-old former stripper rocked a pair of sunglasses, a choker and silver heels.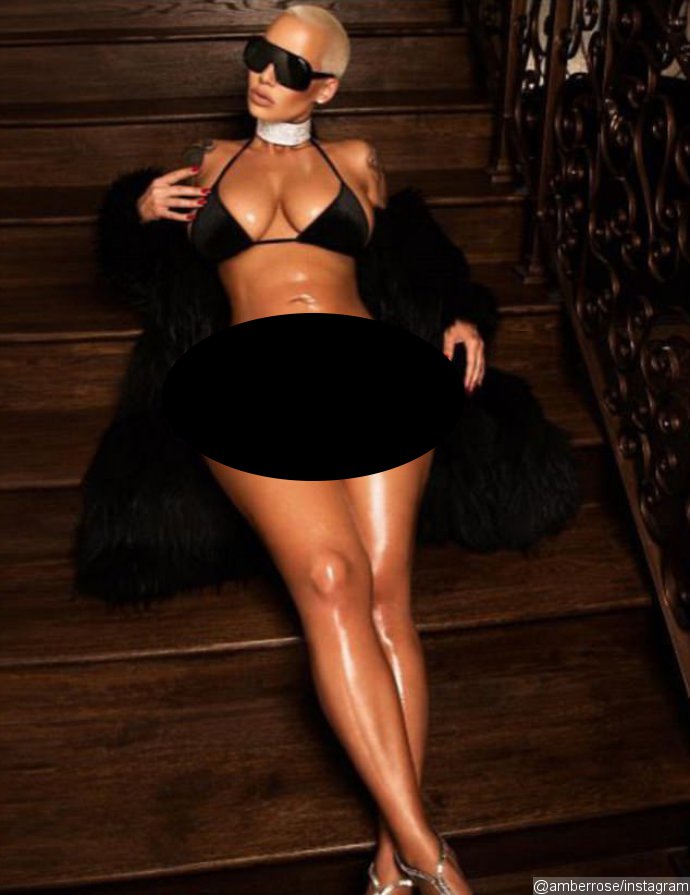 Her social media followers were quick to flood the comment section, with some of them wondering how the bottomless photo was allowed on Instagram in the first place. Some others commented on her unshaven crotch as well as the fact that she has a four-year-old son Sebastian, whom she shares with ex-hubby .
"She got more hair on her p***y then she does on her head," wrote one commenter. "Man you need a chainsaw you shave that bush," another fan said. A concerned user wrote, "Feel sorry for her son!" while another similarly commented, "Her son will see this one day!"
On Twitter, user RoadKillAman wrote, "Amber Rose's bush hair is longer than the hair on her head but she pulls it off," while others posted some GIFs featuring Future, with one of the accompanying lines saying, "Thank you man, appreciate that."
Amber Rose's bush hair is longer than the hair on her head but she pulls it off pic.twitter.com/NlTAI8DPS3

— amanlicious (@RoadKillAman) June 10, 2017
Wiz khalifa pic.twitter.com/XQaGB7MMLw

— DomDahda🏳️‍🌈 (@SUPABULLACAKE) June 10, 2017
— IG:Sandy__hill (@She_Got_Cheeks) June 10, 2017
© AceShowbiz.com