Nicki Minaj on Wendy Williams Supporting Controversial Kenneth Petty Romance: 'Thank You'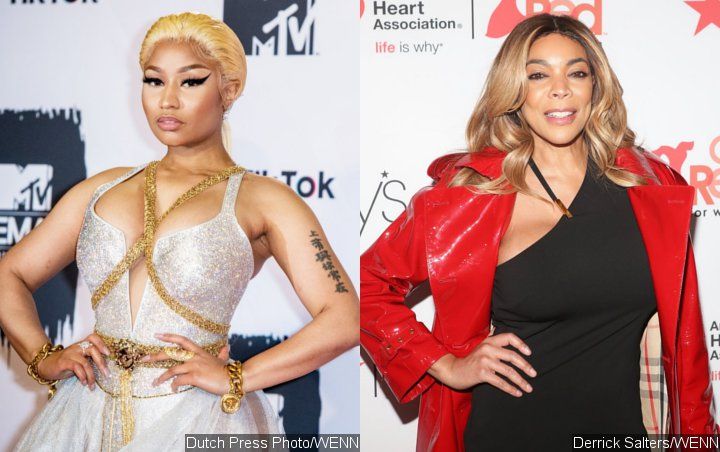 During the 'Hot Topic' segment of her morning talk show, the 55-year-old host praises the 'Megatron' rapper for choosing to have a baby after getting married.
AceShowbiz –
This is indeed surprising. Those who watch "The Wendy Williams Show" must know that Wendy has nothing but harsh words whenever she talks about Nicki Minaj. However, in the latest episode of her morning talk show, the TV host showed support to the rapper's controversial relationship with Kenneth Petty, and this undoubtedly shocked a lot of people.
During the "Hot Topic" segment on her show, Wendy described Nicki as a woman who "has amassed a fortune and she's very famous." She added, "She also says she wants to get married before having a baby — how rare these days. So, I say good for you Nicki."
Footage from the segment soon made its way out on social media, and it didn't take long for Nicki to catch wind of it. It's clear that the "Megatron" female emcee appreciated what the 55-year-old said about her as she tweeted in response, "Regardless of all that, (cuz we don't know the fakks on that) thank you Wendy."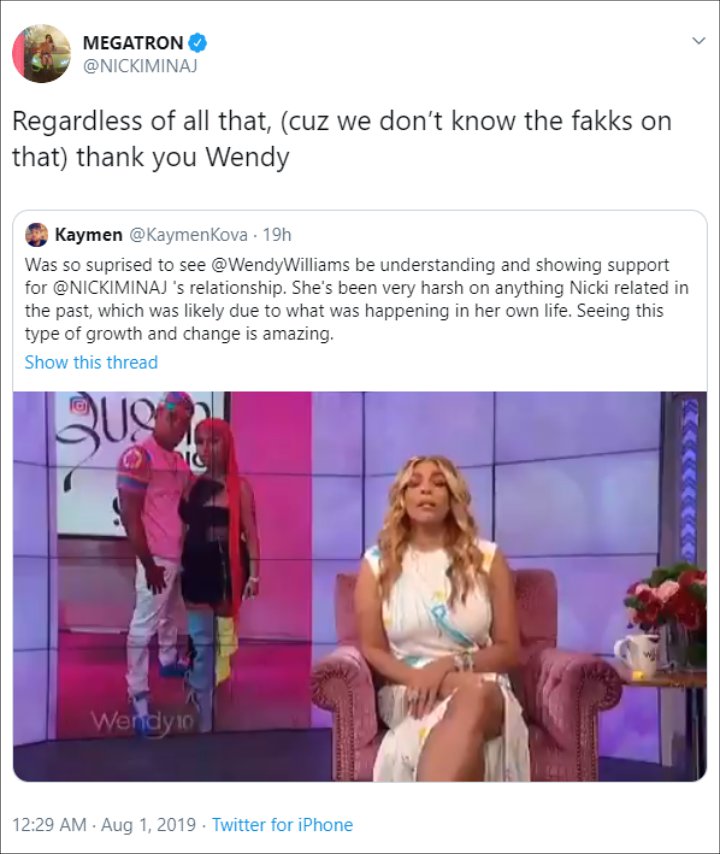 Nicki Minaj thanked Wendy Williams for supporting her relationship with Kenneth Petty.
Ever since Nicki made her relationship with Kenneth Instagram official, many people have been criticizing her over the fact that Kenneth is a registered sex offender. Despite all the backlash that they've been receiving, the couple stays strong and has even planned to get married. Recently, the two were spotted getting their marriage license in Beverly Hills Courthouse in Los Angeles.
Onlookers shared at the time that the lovebirds were attempting to keep a low profile, with Nicki trying to cover herself with a baseball cap. However, people could recognize her quite easily due to her knee-length bright red 'do. The witnesses went on saying that the lovebirds waited in line at a window that read, "Marriage license and ceremony appts. ONLY." It's said that Kenneth paid for the license and they quickly left after that.