MoneyBagg Yo Goes Raunchy With Megan Thee Stallion in Butt-Grabbing Photo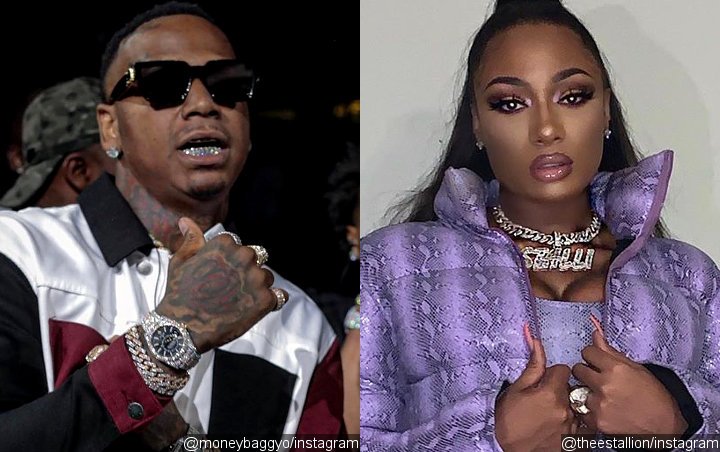 The Hot Girl Summer, who's clad in purple hot pants which match her wig, responds to the post in the comment section as she leaves several sticking a tongue out emojis.
AceShowbiz –
It seems like MoneyBagg Yo wants everyone to know that things are still heating up between him and girlfriend Megan Thee Stallion. The Southern rapper took to his Instagram account to share a racy picture of him with the "Hot Girl Summer" hitmaker.
In the said photo, the couple could be seen snuggling to each other. MoneyBagg, who recently released his and Megan's joint track "All Dat", was photographed kissing her neck while grabbing a handful of his boo's booty. "Wat U Doin Wit All Dat A** Let Me Touch It!!" so he wrote in the caption.
Megan, who was clad in purple hot pants which matched her wig, responded to the post in the comment section. The rising hip-hop star left several sticking a tongue out emojis.
The picture comes in the wake of people trying to make Megan get together with Dave East after they were getting cozy at a nightclub. Dave shared a photo on Instagram Stories on Tuesday, October 8 which featured The "Big Ole Freak" hitmaker looking stunning and sexy in a sleeveless white dress that hugged her body perfectly. Meanwhile, the "Wu-Tang: An American Saga" star kept it casual in a black T-shirt and covered his head with a dark beanie.
Dave deleted the photo shortly afterward, prompting people to speculate whether MoneyBagg Yo had something to do with it. There were also others who thought that the 24-year-old star looked better with Dave instead of her own boyfriend.
Megan recently was honored with the Best Mixtape award at the 2019 BET Hip Hop Awards. "Y'all just don't know how hard me and @liljumadedabeat be going sitting at that laptop working on these beats! I appreciate you every day! My mama would be so proud she is my motivation for waking up and everyday and going hard," she thanked her fans in an Instagram post.