MoneyBagg Yo and 600Breezy Pick Sides in Meek Mill and Nicki Minaj Twitter War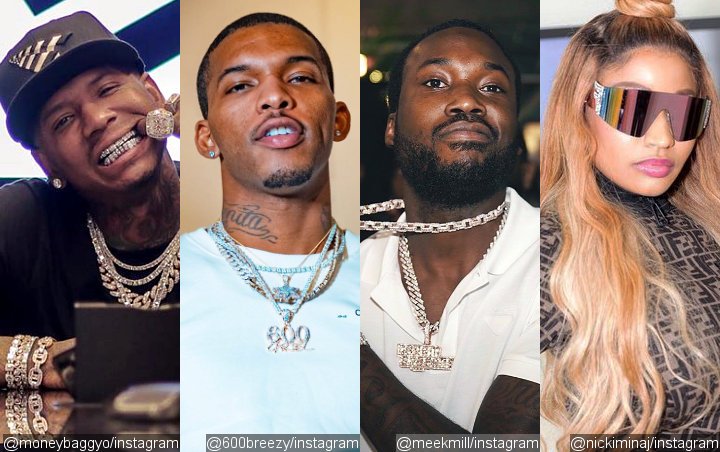 MoneyBagg is less than impressed with Meek Mill while Breezy shocks the internet as he says he knows someone who can make Nicki's husband Kenneth Petty disappear.
AceShowbiz –
The feud between Meek Mill and Nicki Minaj got merrier as fellow rappers MoneyBagg Yo and 600Breezy chose sides. MoneyBagg took a jab at Meek in a cryptic message while Breezy made it clear that he favored Meek and offered a shocking solution to Meek's beef with former girlfriend Nicki.
MoneyBagg was not impressed with Meek's response after the Philly rapper liked a meme of Nicki's husband Kenneth Petty. Without mentioning any names, he wrote on his Instagram Story, "If u like or double tap some f*k s**t somebody posted abt a n***a … don't act like u cool wit the n***a that it's abt wen u see him..ion get ppl."
Meanwhile, Breezy directly gave Meek a shout out as he said he know someone that could help get rid of Kenneth for a small fee. "Aye Meek for a small fee I kno some n***as that's ll make her a widow [cry] I'm just a messenger," he penned on Twitter.
Breezy took a lot of heat as people thought he went too far. He quickly deleted the message and then backpedaled. He claimed his account was hacked, "My twitter was hacked earlier my label just got my password back . Now this Breezo talking I'm wit all the f**k s**t."
Meek Mill and Nicki Minaj butted heads yet again after Meek was caught liking a photoshopped picture of her husband Kenneth. In response, she called her former boyfriend a clown and dissed his fashion sense. She additionally accused him of domestic violence while he dragged her for paying for her "rapist" brother's lawyer.
Nicki replied by suggesting her brother was innocent and the rape allegation was a ploy by his then-wife to blackmail her.
Meek also denied any accusations thrown at him, "I don't hit women and I won't let my interviews be filled with question about her or any situation to do with her when I come out to do press for my new album! No devils tricks."
Neither commented on MoneyBagg Yo's comment or 600Breezy's.