Kim Zolciak Gives Daughter Brielle Biermann a Gun for 21st Birthday – Is It a Wise Choice?
had an unusual choice of gift for her daughter's birthday. As her eldest daughter turned 21 years old on February 25, the "" star bought her a handgun as a gift.
Brielle took to Snapchat to show her unwrapping the gift, which she received after she returned home from a trip to Miami over the weekend. "Look Kash gave me his present!" the birthday girl said on the social media on Monday, February 26 as her brother Kash handed her a box covered in Disney wrapping paper.
"Should I open it? You can open it. Open it. What'd you get me? That's literally the first thing he did," Brielle said to her brother. Kash was then heard saying, "What is it? Oh, I know what it is! It's a gun." Brielle seemed surprise and replied, "It's a gun? You bought me a gun?" Kash replied, "No, he did! Right there!" seemingly pointing to Kroy Biermann, who adopted Brielle and her sister Ariana after he married Kim in 2011.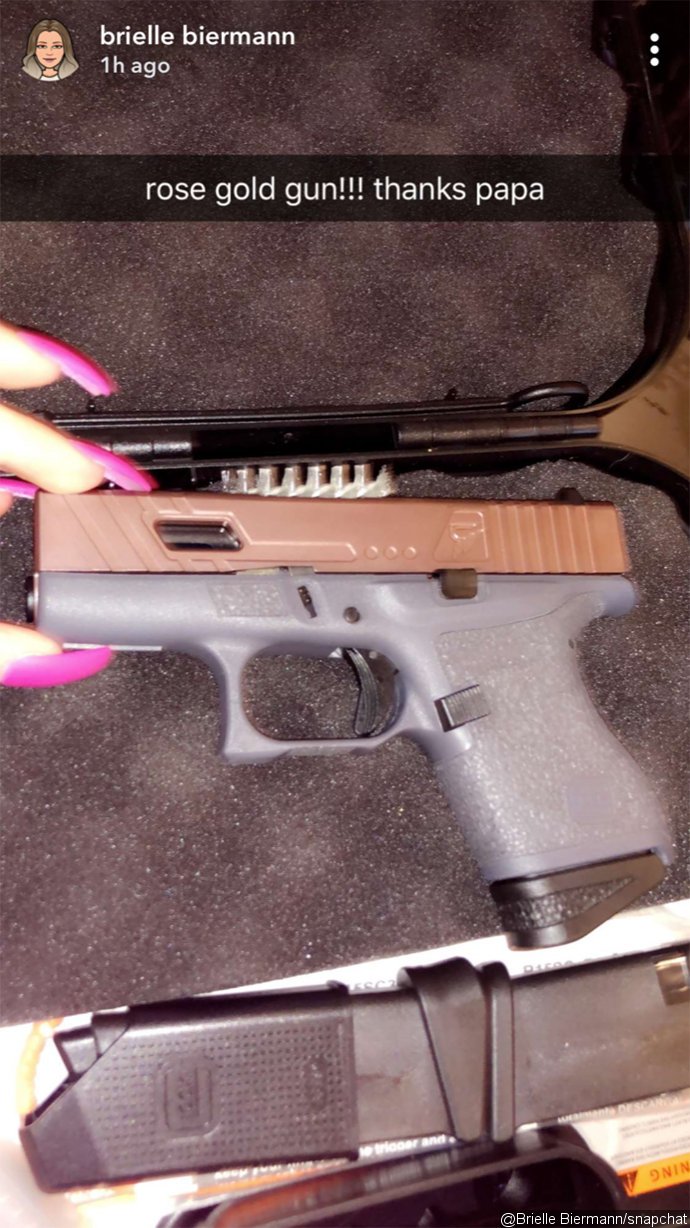 Brielle also shared a picture of the handgun on Snapchat, writing over it, "rose gold gun!!! thanks papa." In a video shared by , she asked her mother, "Oh my God, what am I going to do with this." Kim explained, "You're moving out so it's time to figure it out. … It's not loaded. … It's a special one for you, it's rose gold."
This comes after Kim bought her kids bulletproof backpacks in the wake of Florida shooting. Many have since taken to Twitter to criticize Kim's choice of gift for her daughter amid the current situation.

"But bought her children bulletproof back packs!! Hypocrites!!" one commented on the news. "What a dumb idea," another wrote. "that is an alful gift for a birthday in todays world," read another comment.
Others similarly wrote, "This is what's wrong with America!!!" "On behalf of white people everhwere else, I'm so sorry," and "Because clearly what is needed in the country right now is *MORE* guns. Didn't she buy bulletproof backpacks last week?"