Kim Kardashian Called Out for Unrecognizable Appearance in New Promo Pic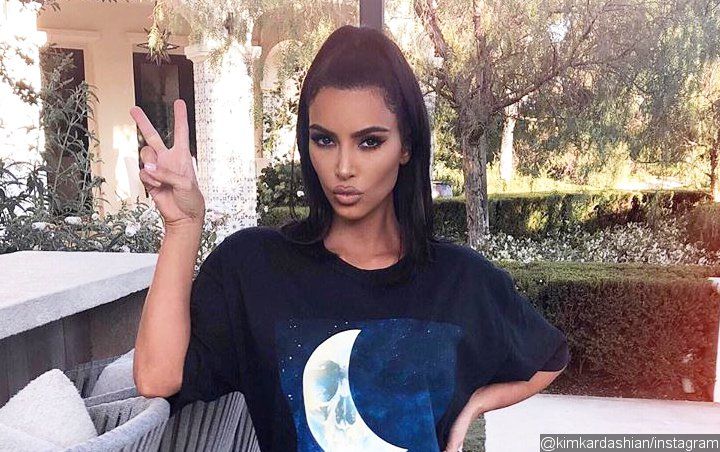 Many social media users are not impressed that the 'Keeping Up with the Kardashians' star 'photoshopped' her picture for the new KKW Beauty campaign so much that she looks like Toni Braxton.
AceShowbiz –
Kim Kardashian has been dragged on social media for her unrecognizable appearance in a new photo to promote her new '90s-inspired KKW Beauty collection. The 38-year-old reality TV star appeared to edit the picture a lot so that she looks like Toni Braxton rather than herself.
The raven beauty applied thick makeup with smoked-out eyes and nude-colored lipstick, while wearing a black outfit of leather straps and buckles. Her nose was overly contoured and she sported an extremely smooth complexion, as she also put on a fake mole below one of her eyes.
After she posted the photo on her Instagram page, many users pointed out at her different look. "Umm…Kim is so stunning but this doesn't look like her," one commented. Another similarly added, "Am I the only one who didn't recognise [sic] sis for like a good 10 seconds." A confused fan asked, "Okay but who is that in the photo?"
Some others recognized her resemblance to Toni Braxton in the photo, though it's not clear if she did it intentionally or not. "Kim looks like 90s Toni Braxton on this photo," noted one fan. Another echoed, "Omg! For a minute I thought I was looking at Toni Braxton."
Meanwhile, those who were not impressed by the heavy photoshop said things like, "She's so photoshopped she doesn't even know what she looks like," "So photoshopped you don't even look yourself anymore, Kim," and, "That doesn't even look like her. Photoshopped so much!"
Kim has not reacted to the backlash over her edited photo. She shared the image to promote the launch of her new KKW Beauty collection. She wrote in the caption of the photo, "I'm so excited to announce my new 90's inspired collection of all matte formulas- The Matte Smoke & Matte Cocoa Collections!!! I get a lot of my makeup inspiration from the 90's and love how nostalgic this entire collection is."
"The collection features 2 10-Pan Eyeshadow Palettes, 6 Lipsticks in a brand new matte formula, 6 Lip Liners, and 5 Eyeliners," she went on explaining. "Matte Smoke & Matte Cocoa are two entirely different color ranges, so there are so many looks you can create with this collection. I can't wait for you guys to try it!!! Launching to kkwbeauty.com on Friday, 08.16 at 12pm pst #kkwbeauty."