Gigi and Bella Hadid Pose Fully Naked in Sizzling Photoshoot for British Vogue
Gigi and strip completely naked for a sizzling photoshoot with . The model sisters, who grace the cover of the Spring Fashion issue of the mag, put their lean figure on full display in one of the pictures taken from the photo session.
Bella and Gigi are seen gazing into the camera as they cover their goods with carefully-placed limbs. Sporting her blonde hair in loose wet waves, gently rests her hand on Bella's chest while offering a glimpse of her sideboob.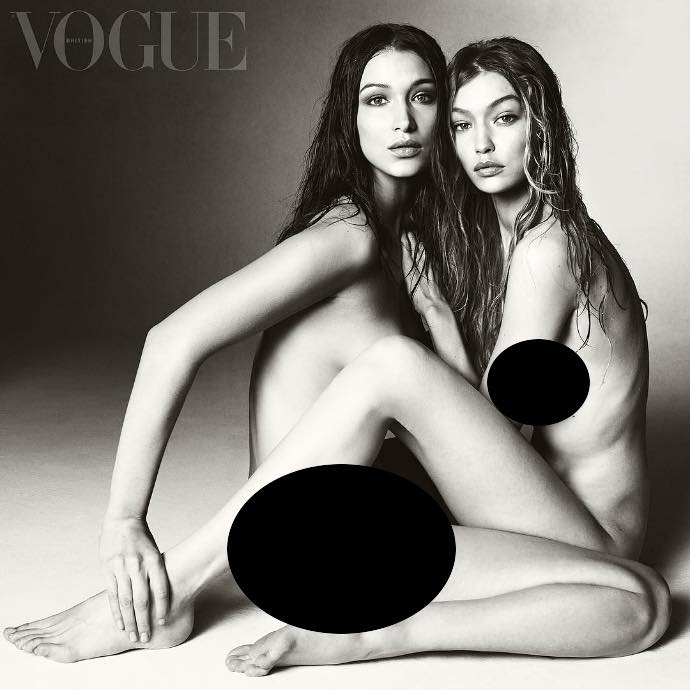 For the actual cover of the publication, both sisters look stylish as always in one-shoulder metal mesh gowns from Versace. Accentuating her green eyes with a light dusting of gold eyeshadow, Gigi throws her head back as she smoulders at the camera. Bella, meanwhile, looks straight at the camera.
Accompanying the photoshoot is an interview in which Gigi admits to being protective of Bella, who is only 18 months younger than her. "I feel like that is symbolic of my entire life to watch over Bella. She's one of the only people I'll get aggressive for. She makes me so proud. I would do anything for her," she says.
The 22-year-old model also opens up about her relationship with , revealing that she found it hard to get the right balance on social media. "If I post what I think would be normal to post of your boyfriend, the comments are: 'It's extra, it's fake,' " she shares. "But if I don't do it enough then it's: 'Oh they're fake, they're not really together.' I try to do what feels real to me, and do it with integrity."
Gigi and Zayn started dating in 2015 and have been inseparable ever since. Recently there was even a speculation that Zayn got his girlfriend's eyes on his chest after Gigi shared on Instagram a short Boomerang clip of Zayn baring his chest.