Emma Watson and Robert Pattinson's 'Harry Potter' Reunion at Golden Globes Sends Fans Into Frenzy
There's a mini "Harry Potter" reunion at the 2018 Golden Globe Awards. and , who played Hermione Granger and Cedric Diggory in the hit fantasy film franchise, were paired to present the Best Limited Series or TV Movie category at the ceremony which was held on Sunday, January 7 at the Beverly Hilton Hotel in Beverly Hills, California.
Wearing black to support the Time's Up movement, both stars sent fans into frenzy with their appearance together. Many "Harry Potter" fans have since taken to Twitter to express their excitement about their reunion.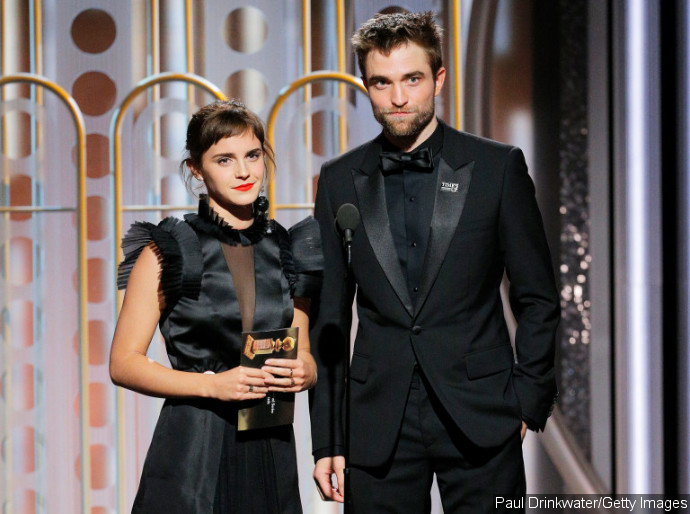 "HERMIONE GRANGER AND CEDRIC DIGGORY THIS IS REAL," one fan wrote. "I'm still shook that Hermione Granger and Cedric Diggory got to present an award together. #GoldenGlobes," another said in disbelief.
"The Harry Potter nerd in me wants to point out that Sirius, Lupin, Hermione and Cedric are all at the #GoldenGlobes. Did I miss anyone else," another Twitter user commented, referring to and who also attended the award show.
"a hermione granger & cedric diggory reunion, AND they're supporting#TIMESUP??? we stan legends #GoldenGlobes," another gushed. "EMMA WATSON AND ROBERT PATTINSON PRESENTING TOGETHER I'M SHAKING HERMIONE AND CEDRIC," read another comment.
Another fan tweeted, "Hermione Granger & Cedric Diggory just presented at the #GoldenGlobes and she's looking at him like he just jumped out of a tree before the Quidditch World Cup. #nerd #harrypotter #EmmaWatson."
One big "Harry Potter" fan quipped, "I'M SORRY BUT TO INTRODUCE EMMA WATSON AND ROBERT PATTINSON AS ANYTHING OTHER THAN HERMIONE GRANGER AND CEDRIC DIGGORY IS ABSOLUTELY DISRESPECTFUL!!! #GoldenGlobes."
While Watson appeared in all eight movies based on J.K. Rowling's book series, Pattinson had a memorable role in 2005's "". He later landed a leading role in the " Saga" movie series which catapulted him to stardom.