Deena Cortese Defended by Fans After Being Mom-Shamed Over Newborn Son's Onesie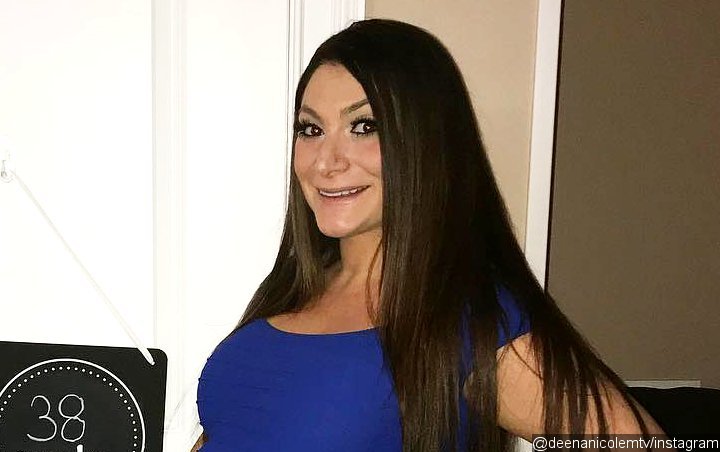 The 'Jersey Shore' star's preemptive attempt to shut down the backlash doesn't stop Internet trolls from schooling her about the baby's clothing choice.
AceShowbiz –
Days after giving birth to her first son, Deena Cortese found herself being subjected to mom-shaming. The "Jersey Shore" star was criticized for her choice of outfit for her baby and safe carseat precautions, but lucky for her, many immediately jumped to her defense and told the trolls to leave her alone.
Sending love to the TV personality, one fan wrote on the comment section of her January 7 post, "You're fine momma! You totally got this! There are obnoxious judgemental mom's out there like crazy. Just do what you need to do!" Another fan fired back at trolls with sarcastic retort, "JESUS CHRIST the car seat warriors are in battle mode. Unsolicited parenting advice is the best."
Deena was met with backlash after posting a series of her newborn baby pictures on an Instagram post. Along with the photos, the 31-year-old wrote, "Going home ( it's not a jacket .. it's a onesie and hospital approved it ) we're not perfect but we got this thank you for the concerns," as a preemptive attempt to prevent criticism.
Despite Deena's effort, a number of people still found faults. Some thought her choice of outfit for the baby was unwise, reasoning that dressing a baby in a jacket can put the baby dangerously loose from the straps of car seat harness. One in particular commented, "not a single CPST would have approved that snow suit in the car seat lol the harness is too loose."
While many were unnecessarily mean with their comments, the majority were either congratulating her or defending her. A fan told Deena, "Oh please don't let the stupid mommy police tell you what to do with your baby! You definitely got this." One other gave her assurance by writing, "please… Do not ever, think you need to explain yourself as a mother Rule #1. You are great, he is healthy, and you got this, jacket or not."
Deena gave birth to her first child with husband Christopher Buckner on Saturday, January 5. Announcing the arrival of Christopher Jon Buckner (CJ) with a video post on her Instagram, she gushed in the caption, "Uhg mommy and daddy love you so much CJ .. youre our everything i never thought i could love Chris anymore than i did until i saw him hold CJ."