Bella Hadid Flashes Nipple in Semi-Sheer Top During Tokyo Trip

Bella Hadid takes her sexiness abroad. The 21-year-old model was flaunting her breasts and nipple during a night out in Japan. She took to Instagram on Thursday, April 5 to share two snaps of her going braless underneath a semi-sheer top, leaving very little to the imagination.

She sported two futuristic-looking shades in a dimly-lit room with a heart-shaped neon light on the background. Her brunette locks were tied into high buns, giving off chic vibes. She completed her looks with glossy pink lip and a clear belt with silver hardware on her jeans.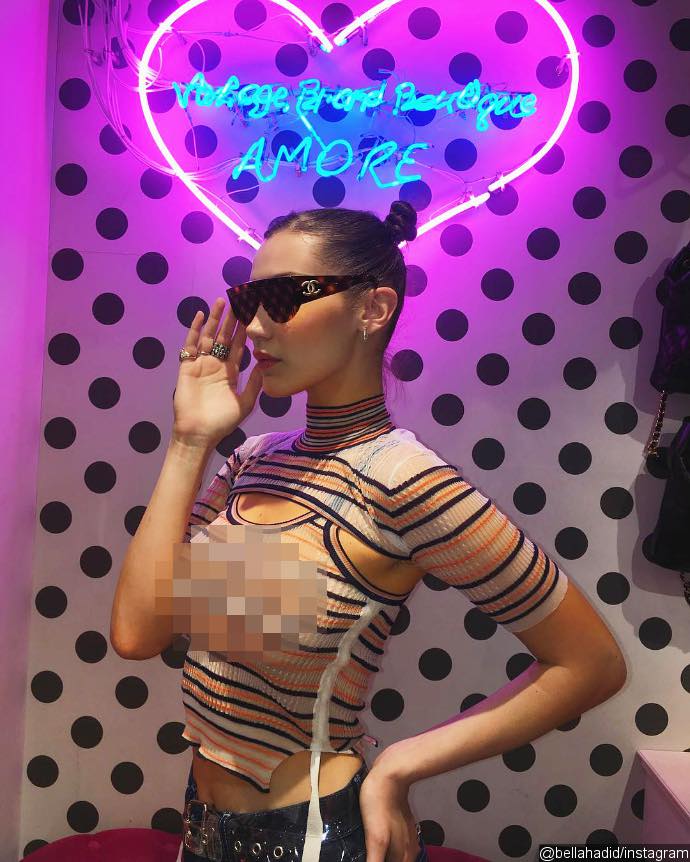 Bella Hadid flashes nipple in semi-sheer top
"Kung Fu Kitty Cat [heart emoji] @livincool @amore_tokyo," she simply captioned one of the images.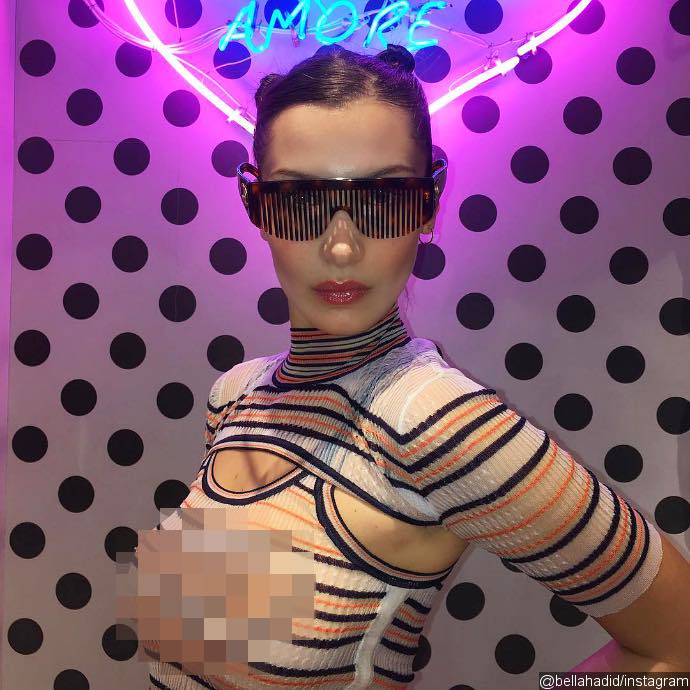 Bella Hadid goes braless while modeling chic shades

Bella recently hit back at an internet troll who accused her and best pal/fellow model Kendall Jenner of having plastic surgeries. It all started after a fan account shared a split photo of the model best friends with the caption, "Kenny or Bella?" While many left positive comments, one hater wrote, "2 fake b****es sitting in a tree, first comes the nose job, then come the lips, on and don't forget the built in cheeks. lmao y'all trippin' fam, money can get you a new face but not a nicer personality which these two girls need."

Bella clapped back, writing, "I wish you would know either of our personalities. And not only that, I wish you only grasp a heart of your own. Blessings to you sweetheart. Jealousy is a cry for help that I wish I could help you with."

The hater later deleted his/her earlier comment and seemed to regret it. "@ballahadid it's all gone girl, but seriously this whole thing has taught me a lot," the Instagram user added.

While Bella has shut down the plastic surgery rumor, Kendall only fueled the speculation when she was spotted with plumper lips during an outing in Paris on Wednesday. She also looked different in a recent photo she shared on Instagram.

"You were so beautiful before! Now you look puffy! Please stop before it's too late," one concerned fan wrote. Another commented, "Either it's a photoshop oops or too much work. Her eyes aren't that big, or have that much lid and her lips look done."