Bella Hadid Bares Her Butt in Skimpy Thong on Her Birthday
has treated her fans to a new racy snap of hers to mark her 21st birthday. The model took to Instagram on Monday, October 9 to share a cheeky picture of her going pantless and wearing just a skimpy thong while backfacing the camera, flaunting her pert derriere.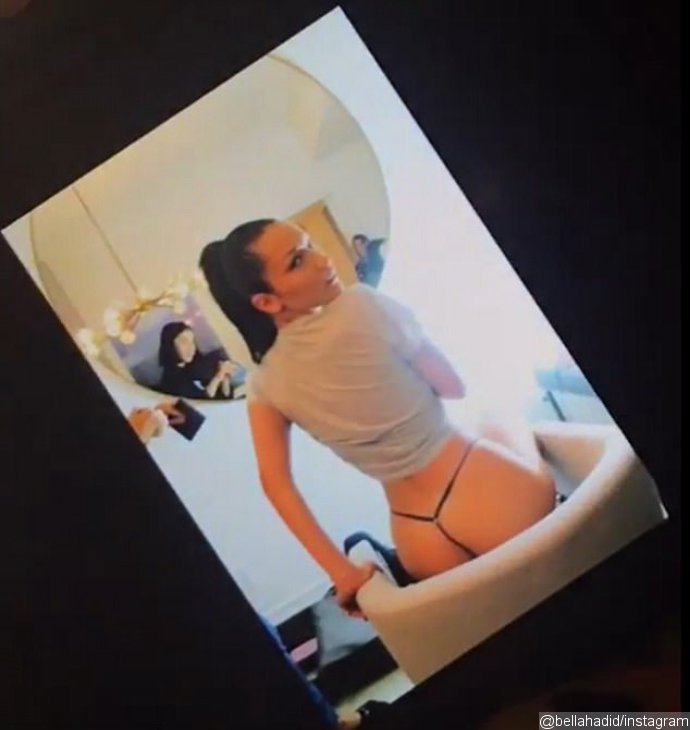 On Monday night, Bella celebrated her birthday with her sister and their mom . The three for a dinner party in New York City. For the occasion, the brunette beauty opted for an elegant and classic look in a skintight black satin dress, paired with stilettos. She tied her long hair into a ponytail.
Her older sister Gigi was also a vision in a powder blue ensemble. She showed some skin in a corset with some sheer panels, paired with a set of high-waist slacks. She held her blazer in one hand and carried a box purse in the other hand. She looked cheerful as she flashed a smile while walking hand-in-hand with Bella.
Earlier in the day, Gigi took to her Instagram account to wish Bella a happy birthday. She shared some throwback pictures from their childhood, including one which showed her feeding her younger sister with a milk bottle.
She wrote in the caption, "HAPPY 21st BIRTHDAY MY ANGELIC SISTER @BELLAHADID !!! There are no words for how much I love you. You know I've been trying to protect u from the world since day one, and 21 years later u comfort and inspire me more than you'll ever know. You have always marched to your own drum, and you make me so so proud. You are loving, kind, driven, perseverant, and forever cool af. You have a power to empathize with everyone & love always, and you make so many people happy in doing so! So excited to celebrate tonight – Cheers to YOU Bella Kai Kai. I LOVE U MY LIL SISSYPOP."