50 Cent Still Thinks Chris Brown Is Better Than Michael Jackson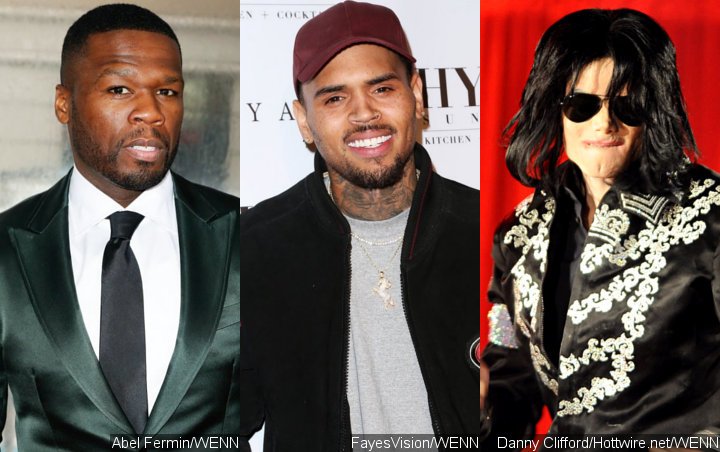 Fifty continues with his joke on Instagram as the 'Power' executive producer later shares a photo in which his face is Photoshop-ed on the King of Pop's in his 1982 'Thriller' album.
AceShowbiz –
50 Cent apparently revisits his feud with Paris Jackson. The "Candy" rapper recently took to his Instagram account to share a gushing post about R&B star Chris Brown, whom he thought was better than Michael Jackson.
Sharing a video of Brizzy doing a crazy turn on stage, "I would hate to be a R&B n***a right now. this fool better then MJ," so he captioned the clip. He also added, "no [cap emoji]," which is a rap speak for "no lie."
Further emphasizing his opinion, Fiddy wrote in the comment section, "Repeat after me MJ was great but it's CB's turn."
Unsurprisingly, his joke didn't simply end there. 50 later shared a photo in which his face was Photoshop-ed on the King of Pop's in his 1982 "Thriller" album. He also renamed the album into "Curtis Jackson – Thriller", a nod to his real name Curtis James Jackson.
This is not the first time for Fofty to spark Chris Brown vs. Michael Jackson debate on social media. Last month, he posted a video of Chris entering a stage via back flips. "All I'm saying is I never seen MJ come out like this," the "In Da Club" rapper captioned the clip, prompting Paris to hit back. "Superbowl 1993," she simply replied, referring to her late dad's iconic Super Bowl halftime show performance.
"True legends don't need to exert outrageous amounts of energy just to grasp your attention," she added. "Stillness, my friend. Stillness. More power in stillness than you can possibly understand."
Paris went on saying that she wasn't coming at Brizzy at all. "And I say this with zero shade to Chris. I love him dearly. This is just for you, 50."