50 Cent Allegedly Punches French Montana in Miami Ahead of Super Bowl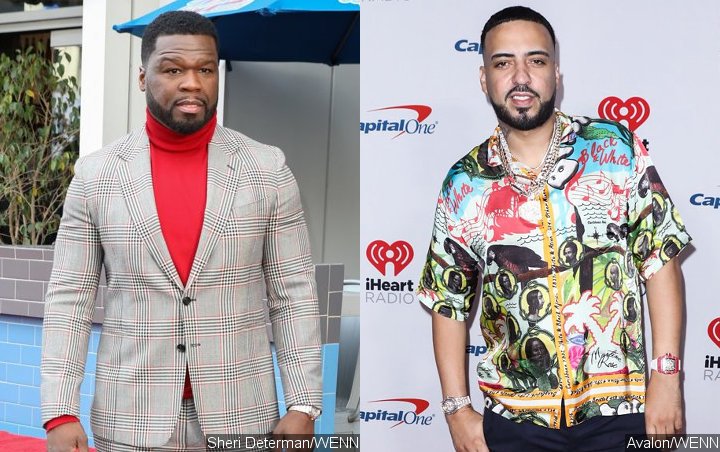 The 'In Da Club' hitmaker allegedly gets in a physical altercation with his Instagram nemesis at a Miami nightclub only days after vowing to stop beefing with everyone.
AceShowbiz –
50 Cent and French Montana reportedly had a fist fight. According to the internet chatters, the "In Da Club" hitmaker punched Montana at club ELEVEN in Miami ahead of the highly-anticipated Super Bowl on February 2.
Both haven't made any comments, but 50 Cent recently wrote this cryptic warning on Instagram, "Here we go wit the bulls**t, I'm not gonna argue with you, but when you randomly get knocked out, when you wake up I'm willing to speak with a soft tone. LOL."
Details of the altercation are still scarce, but many celebrities were currently flocking to Miami for the Sunday sports event. Montana was among those in town early for pre-Super Bowl gig. Hours before the video surfaced, he posted clips of his performance at Miami club.
While in Miami, he was joined by model Anel Peralta. Their sighting together sparked romance rumors, but she claimed their relationship was strictly platonic. "Seriously WTF! You paparazzis need to stop! Leave me aloneeeee I've been a private person for years. This man is just my friend," she set the record straight on her Instagram.
The feud between 50 Cent and French Montana started on Instagram before New Year when Fifty scoffed at Montana after the latter showed off a new Bugatti that he purchased to celebrate his release from hospital. Fifty said the vehicle was not worth flaunting since it's neither new nor the latest model. "You shoulda just got the Uber app on ya phone," Fifty commented. "Put that bulls**t back on that truck."
The two got involved in a back and forth. 50 Cent dragged Montana over his association with P. Diddy while Montana clapped back by calling the G-Unit star a rat due to his connection with Tekashi 6ix9ine.
Fifty additionally mocked Montana for allegedly buying fake stream for his new single "Writing on the Wall". In response, Montana attacked Fifty's street credibility by posting documents that allegedly showed him snitch to the government amid his feud with Ja Rule years ago.
However, following Kobe Bryant's recent passing, 50 Cent who's notorious for trolling everyone including his own "Power" actress Naturi Naughton vowed to stop beefing on the internet. He said, "I feel like I have to achieve what I want in life now after this. I have to focus. I'm not arguing with anyone anymore I'll deal with it another way if there's a problem."